Strange, clever and crazy bikes
PEDALMANIA: We bring our strange, clever, crazy and bizarre pedal powered bikes to wherever you are, for you, to ride and enjoy, it's riotous fun. Our bikes are designed to be ridden, (well most of them) by 1,2,3, or more people. We also individually hire out bikes for special events; this can be with or without a rider if needed.
At The Recycled Bicycle we specialize in manufacturing, Long and Short Wheel base, Recumbent's, Side by Sides. Tandems, Tridems, Trike's, Pedi cabs, Hand Cycles, Bicycle Trailers, Mobility Aids and novelty pushbikes. We make these out of old, used pushbikes. Let us know if we can make or restore a bike for you. We also have a good stock of second hand spare parts.
At Ice Skate Services we sharpen Ice Skates, we also have a small selection skates available for hire, they are a mixture of Figure and Ice Hockey skates: sizes 3-13, the majority are figure skates between sizes 4-7. We recommend trying them on before you go skating because the sizing varies with each brand.
Property Management Do you need your lawn mowed, trees trimmed or removed, your section cleaned or cleared, your house painted, roof fixed or plumbing updated or just some of those small maintaince jobs round your house or property done, let our experienced staff do it for you, contact us:
We are sorry but Stewarts Gully Mini Golf has closed permanently due to the economic conditions generated in the aftermath of the Christchurch Earthquakes. We would like to thank our loyal and valued customers for their patronage over the last 10 years and wish them well in their future.
All Domain Hire queries are now directed to: M Tritt: Ph:033236121.
PEDALMANIA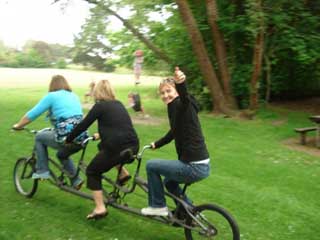 Future Events
Links we like