Call 0274504399 for more information
You are viewing the Mobile Optimized version of our site Tap Here for a Desktop Version of our Website
WHAT WE DO:
We bring our strange, clever, crazy and bizarre pedal powered bikes to wherever you are. So that you can ride and enjoy them wherever you like, its riotous fun!!!! Our bikes are designed to be ridden, (well most of them) by 1,2,3, or 5 people. We also individually hire out bikes for special events; this can be with or without a rider/riders if needed.
WHERE WE DO IT:
Because we bring the bikes to you, this can be your place, your School, the park you are having your BBQ, your fair, or Gala. We can also supply bikes for your Parade, Procession or Exhibition.
HOW MUCH IT COSTS:
We have different rates for different events, and different rates for different numbers. We can help you with fundraising and depending on how your event is organised we may not even charge you at all. Our base rate is $140 per hour for approximately 35 bikes that seat about 45 people, we have a minimum booking time of 2 hours, we give discounts for multiple and longer bookings. Contact us for more information
PICTURES: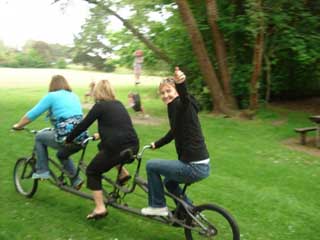 Girls can do it to, our Tridem being ridden.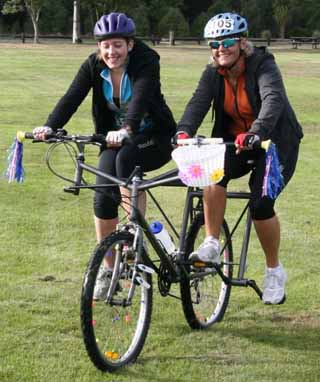 Our Side by Side Tandem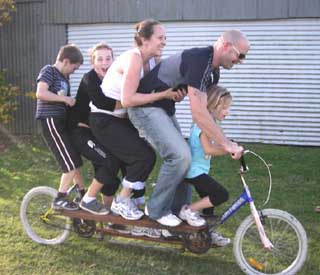 5 at once a new record!!!!

OUR BIKES:
MOVIES:
Coming Soon
Mobile: 0274504399 or 033238293, email: Pedalmania
Snail Mail to: 18 Pine Ave Stewarts Gully, Christchurch 8083, Canterbury, New Zealand